Career
Opportunities &

Diversity
Carney Badley Spellman is seeking an experienced litigation attorney (at least 8 years) to join its expanding Commercial Litigation Practice Group.  Preferably the candidate will have a partial book of business ($300k).  The attorney will need to handle commercial business disputes, employment law matters, contract disputes, real estate and construction law disputes through mediation, arbitration and all trial stages.  They will assume lead counsel on the litigation matters and be responsible for managing other team members.
Our clients include individuals, professionals, entrepreneurs, businesses and industry leaders.  Clients are both in the private sector and public sector and their markets extend into almost every industry including real estate, construction, food and beverage, professional services,  health care, manufacturing and technology.
Carney Badley Spellman is one of Washington state's Best Places to Work.
Careers With Carney Badley Spellman
Thank you for your interest in career opportunities with Carney Badley Spellman
We are a leading law firm in Seattle Washington, listed in the Top 100 Best Places to Work in Washington state.  Our clients include individuals, startups, closely-held businesses, and Fortune 500 companies with offices in the Pacific Northwest and across the United States.
Carney Badley Spellman is continuously searching for highly skilled attorneys, paralegals, legal assistants, and administrative staff to provide the highest level of service to our clients, are effective contributors and mentors to others within our firm and to our local communities.
We value and foster an environment that encompasses a culture of diversity, collegiality, respect, and professional growth.  Our employees come from diverse backgrounds and educations. We understand our employees are our greatest assets and essential to achieving the goals of our firm.
If you would like to submit your resume and cover letter for a career opportunity, please send a .doc or PDF file as an attachment to dillard@carneylaw.com.
Please include the position you would like to apply for in the subject line.
Thank you
Benefits
We believe providing benefits to our employees that include dependents and families is essential for everyone's overall health and vitality.
Medical & Health Care Savings Account  (100% paid for employees; 50% contribution for dependents)
Dental (100% paid for employees; 50% contribution for dependents)
Life & Disability (100% paid for employees)
Paid Family Leave
Retirement:  401k, Safe Harbor, Profit Sharing
Transportation and cell phone subsidies
Employee Assistance Program
Travel Assistance Program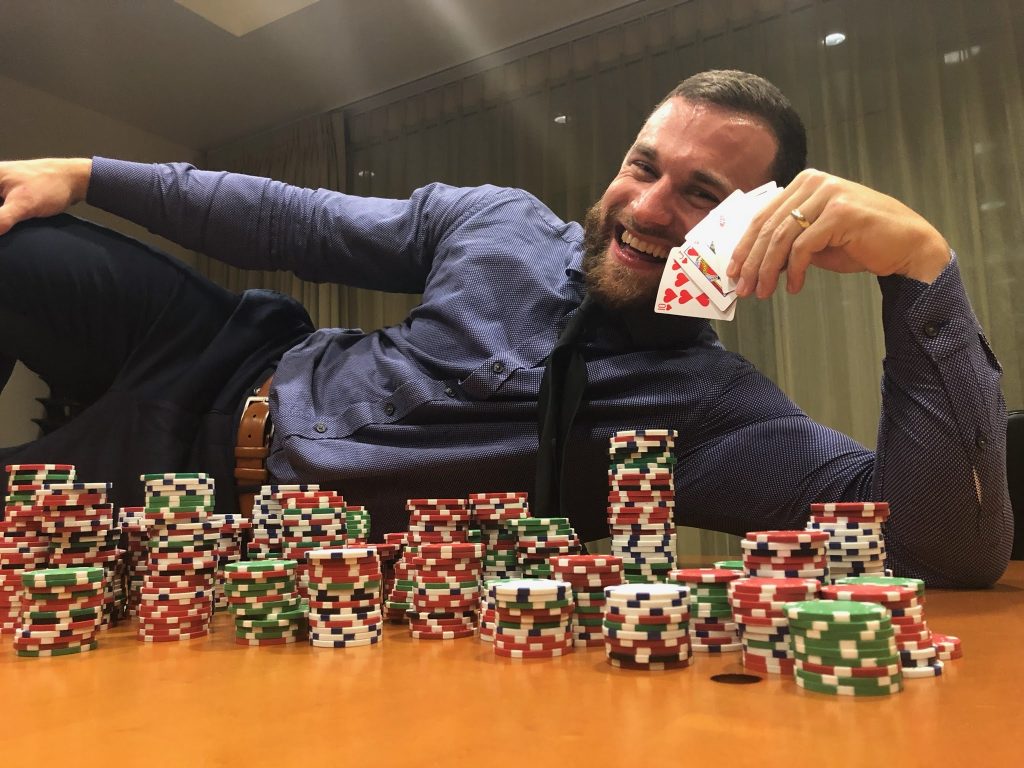 Philanthropic work that supports our local community is important to the firm.  So any time that we can mix fun with philanthropy, the firm goes "all in."  As you can see here, I went all in multiple times and ultimately captured all of the chips for the night at Jay Terry's Annual Charity Poker Tournament in 2018.
Rory Cosgrove
"Working at Carney means family. You're never left out and always cared for. "
Shawn Bei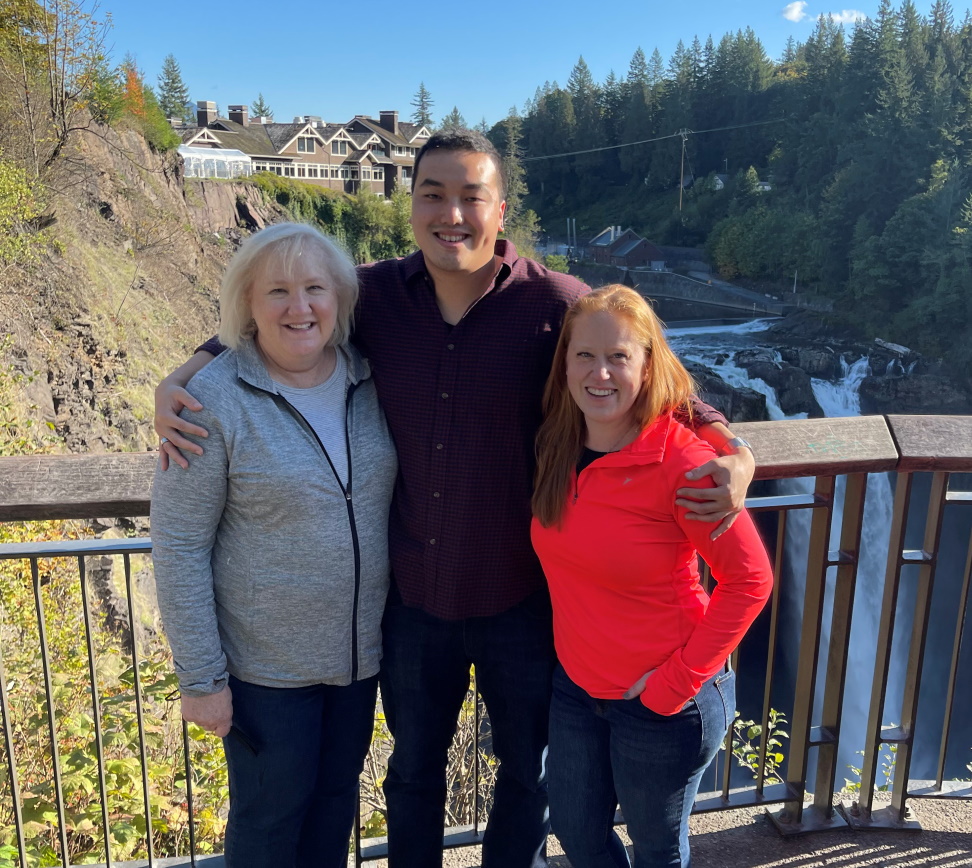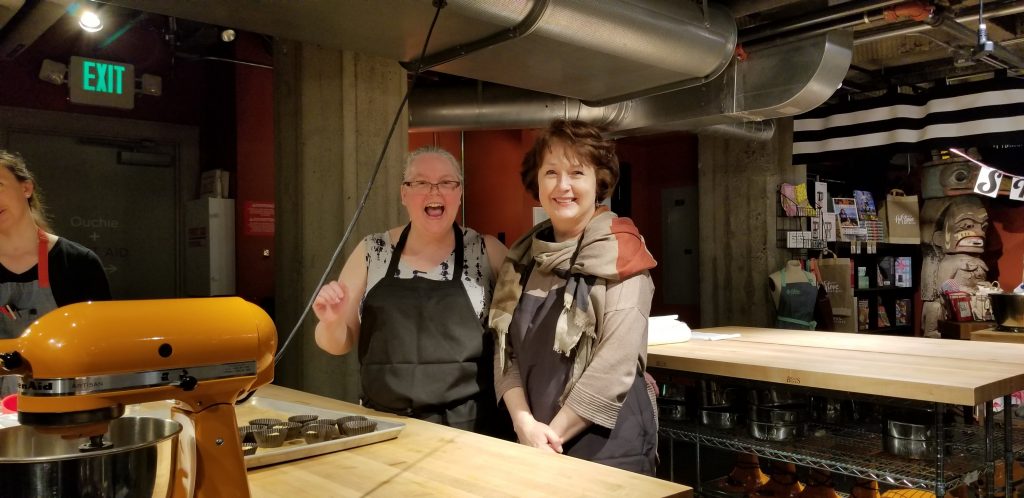 Cooking Classes at Tom Douglas' Hot Stove Society
"We have such a large range of practice areas; it never gets boring around here. There is always something interesting going on either with the appellate team, supporting cool new startups in the business department or learning about policy down in Olympia. It feels great to work for a company that continues to invest in its employees. Plus, we have a lot of fun in between, like taking cooking classes!"
Kim Caufman
Legal Employers Advancing Diversity in Washington ("LEAD-WA") 
Carney Badley Spellman, P.S. has been proud to be a part of this program for over 20 years. In 2020, Carney chose two summer interns from LEAD.  They worked with our litigation and business teams to gain legal professional skills, including commercial and construction litigation, insurance law, corporate law, startups, estate planning, and state and federal tax. In the past, they have assisted and taken part in depositions, mediations, arbitration, and trials, performed legal research, worked with clients to file corporate documents, and participated in due diligence with M&A transactions.  We are proud to announce we hired another Fellow from the program in 2020 as a first-year associate attorney.
MORE ABOUT LEAD
Legal Employers Advancing Diversity in Washington ("LEAD-WA") is a Washington non-profit organization created to increase diverse lawyers practicing in the Washington legal community. LEAD-WA, through its participating employers.
It provides summer associate opportunities to diverse law students from Washington's three law schools: Gonzaga University School of Law, Seattle University School of Law, and the University of Washington School of Law. This program was previously known as the Puget Sound Minority Clerkship Program ("PSMCP").
LEAD-WA was established by the Puget Sound Area Minority Fellowship Program ("PSAMFP") Board to continue providing opportunities for traditionally underrepresented diverse law students to work in the various law firm and corporate law environments otherwise foster diversity in the profession.  Students chosen to participate as Fellows in this highly competitive program are selected as summer associates with one of LEAD-WA's participating employers.
LEAD WEBSITE
To learn more and sign up for LEAD visit their website HERE.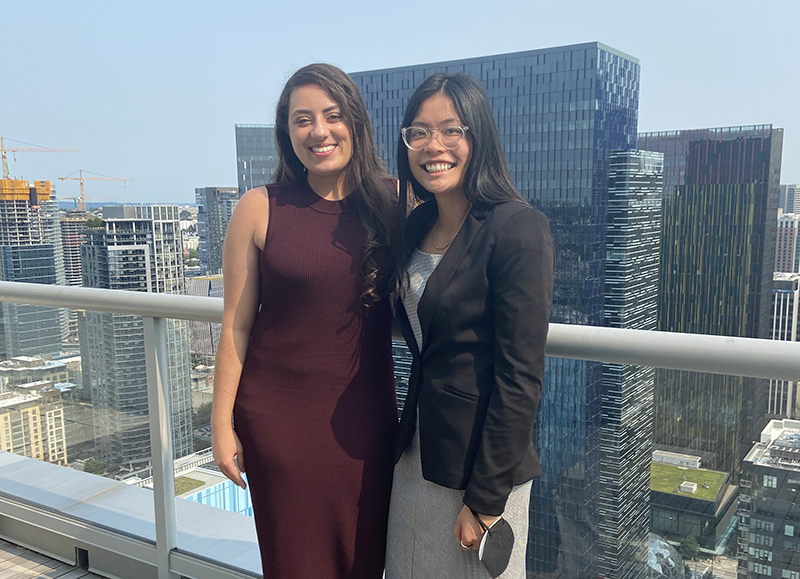 2021 Summer Interns – Rania Elbasiony & Adriena Clifton
Carney Badley Spellman is an Equal Opportunity Employer.