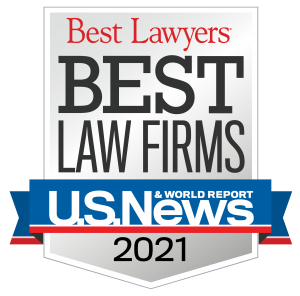 We are excited to announce that Carney Badley Spellman has been named one of 2021's "Best Law Firms" by Best Lawyers® and U.S. News & World Report.  In addition to this honor, several of its practice groups were recognized nationally and regionally.
Firms included in the 2021 Edition of U.S. News-Best Lawyers' "Best Law Firms" are recognized for professional excellence with consistently impressive ratings from clients and peers. To be eligible for a ranking, a firm must first have a lawyer recognized in The Best Lawyers in America©, which recognizes 5% of lawyers practicing in the United States. Achieving tiered ranking signals a unique combination of quality law practice and breadth of legal expertise.
The 2021 rankings are based on the highest lawyer and firm participation on record, incorporating 8.3 million evaluations of more than 110,000 individual leading lawyers from more than 22,000 firms.
"This year, we reviewed 15,587 law firms throughout the United States – across 75 national practice areas – and a total of 2,179 firms received a national law firm ranking. We are proud that the 'Best Law Firms' rankings continue to act as an indicator of excellence throughout the legal industry," says Phil Greer, CEO of Best Lawyers.
Ranked firms are recognized on a national and regional-based scale. Firms that received a tier designation reflect the highest level of respect a firm can earn among other leading lawyers and clients from the same communities and practice areas.
Awards were given in 75 national practice areas and 127 metropolitan practice areas. Additionally, one "Law Firm of the Year" was named in each nationally ranked practice area.
Rankings:
National
Construction Litigation (Scott Penner)
Tax Law – (George Mastrodonato)
Seattle Metropolitan
Appellate Law – (Mike King)
Business Organizations (including LLCs & Partnerships) – (Joe Wallin)
Construction Law (Scott Penner and Chris Wright)
Construction Litigation (Scott Penner)
Corporate Law (Joe Wallin)
Insurance Law (Scott Penner)
Real Estate Law (Dave Bever)
Tax Law (George Mastrodonato)
Tax Litigation (George Mastrodonato)
Trust & Estates Law (Dean Butler)
About Carney Badley Spellman, P.S.
Carney Badley Spellman is about Advocacy, Strategy, Results. Located in Seattle, we are a full-service law firm committed to exceptional client service and professional excellence. Our firm serves individuals and businesses of all types and sizes. Also, our attorneys work with closely-held companies to Fortune 500 corporations in the Pacific Northwest and across the United States. Although Carney Badley Spellman's location is in Seattle, Washington, we are proud to be a part of the Washington state community and communities across the nation.